Mental Health Week 2022
Every year in October, around the time of World Mental Health day on the 10th, people all over the world celebrate National Mental Health Week. Each state in Australia celebrates their own mental health week/month. The week will aim to raise awareness about mental health and reduce the stigma surrounding it.
All across Australia, there will be a range of events and activities held throughout the week, including:
Mental health awareness workshops
Self-care sessions
Support group meetings
Social media campaigns
Fundraising events
During Mental Health Week 2022, we encourage everyone to take the time to check in on their mental health and well-being. If you or someone you know is struggling, please reach out for help. There are many organisations and services available to support you.
If you need immediate assistance, please call emergency services on 000.
Lifeline: 13 11 14
Suicide Call Back Service: 1300 659 467
Alcohol & Drug Support Line: 1800 198 024
Domestic Violence Helpline: 1800RESPECT – 1800 737 732
Kids Helpline: 1800 551 800
What is Mental Health Awareness Week?
Mental Health Awareness Week is an incredibly special and important week. It is important to acknowledge that mental health is such a prevalent issue within contemporary society, and it must be spoken about more frequently.
Mental health should not be viewed as a taboo topic, rather it should be open for discussion in order to better understand it.
Mental Health Awareness Week allows people to feel comfortable enough to start these discussions and ultimately begin the process of breaking down the negative stigma that is unfortunately still attached to mental health.
The stereotypes and stigma surrounding mental health stop people from speaking up and letting others know if they are struggling. There seems to be a sense that you are weak if you struggle with mental health issues.
It takes great courage and strength for someone to speak up and say they are struggling and need help. More recently, there has been a noticeable shift in the mindset of contemporary society regarding mental health, and it is certainly getting better, but there is still so much work to do in this area.
Mental health awareness week also aims to educate people on mental health and what it actually entails.
What are the objectives of Mental Health Awareness Week?
The objectives of Mental Health Awareness Week are:
To increase awareness and understanding of mental health in the community
To reduce the stigma surrounding mental illness
To promote help-seeking behaviour
To encourage people to take action to improve their mental health
To provide support to those who are affected by mental illness
When is Mental Health Awareness Week in Australia?
Mental Health Awareness Week is held annually in the second week of October. This year, Mental Health Awareness Week 2022 will be held from 10th-16th October.
How can I promote Mental Health Awareness in my community?
Working in the mental health sector can be quite difficult at times but also so rewarding. Giving someone the space and opportunity to talk about their problems or issues can be such a powerful moment for that person. It allows them to be seen and heard, which can mean so much for that person.
Simply sitting down and listening to someone could help them to an extent that we don't understand. A simple act like this is something so small, yet the magnitude of it can be significant.
Activities such as going shopping, going to the local swimming pool, and going to the gym are a few activities that many mental health support workers do with their clients to help them increase their participation within the community.
Practical Tips to Support People with Mental Health Illness
Mental health clients often feel that society views them differently and feel they would not be able to achieve anything. An important thing to remember in mental health support is that people with mental illness just want to be part of society. They want people to see them as a normal person, not a person who has a mental illness.
If you think someone you know may be struggling with their mental health, the most important thing you can do is to reach out and start a conversation with them. You don't have to be an expert on mental health to have this conversation. Just show that you care and are willing to listen.
Other tips to improve the mental health of others could be by:
Asking your friends how they are and just checking in with them
Grabbing coffee
Going for a walk together
Playing video games
Doing any hobbies together
Just being there for them and listening
If you are struggling with your mental health, please remember that you are not alone and there is help available. Please reach out to a friend, family member, or mental health professional to help you through this tough time.
How can I improve my well-being?
Most people have experienced their own mental health problems at some time, and most people learn how to improve their well-being in a trial-and-error manner. A common method to improving your own mental health and well-being is ensuring you're connected with friends, family or social community.
Surrounding yourself with friends often incites a sense of purpose and a sense of comfortability. It can help with alleviating some of the pressures caused by mental health, knowing that you have the support of people around you.
In addition, maintaining a healthy lifestyle with proper nutrition and physical activity can help improve mental well-being. A lot of the time, people who struggle with their mental health often neglect their physical health as well. It's important to remember that our mental and physical health are interconnected and need to be given attention equally.
Some other tips to improve mental well-being are:
Seeking professional help when needed
Utilising relaxation techniques such as yoga or meditation
Practicing breathing exercises
Creating a support system
Staying positive and practicing gratitude
Setting realistic goals
Participating in activities you enjoy
Spending time outside in nature
Western Australia: Mental Health Awareness Week 
In 2022, Mental Health Week in WA will be held from 8-15 October.
Western Australia Mental Health Events
OFFICIAL OPENING CEREMONY – WA MENTAL HEALTH WEEK
Luna Palace Cinema, Leederville | 6 October 2022, 3.00 pm – 6.00 pm
Breakfast by the Bay
Banquet Hall, The University of WA | 12 October 2022, 7.00 am – 9.00 am
Turn It Up Blue Day – Holyoake
Bernard Park, Northam | 13 October 2022, 9.00 am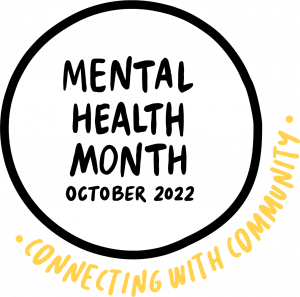 South Australia: Mental Health Awareness Month
South Australia's Mental Health Awareness Month will take place from October 1 to 31, 2022.
South Australia Mental Health Events
Walk for Mental Health
Red Gum Park, Adelaide | 16 October, 9.00 pm – 11.00 pm
National Symposium on Men and Mental Health
Adelaide Town Hall, Adelaide | 18 October, 10.00 am – 12.00 pm
Queensland: Queensland Mental Health Awareness 
In 2022, Mental Health Week in QLD will be held from 8-16 October.
Queensland Mental Health Events
Suicide prevention for at-risk industries Livestream
Join online | 13 October, 8.00 am
Health & Wellness Expo
4 Little High Street, Boonah | 14 October, 9.00 am
Mental Health and Wellbeing Fair
Warwick Town Hall, Town Hall, Palmerin Street | 14 October, 10.00 am
New South Wales: Mental Health Month 
Every year, in October, NSW celebrates Mental Health Month. "Tune-In" is this year's theme, encouraging individuals to tune into themselves, others, and the world around them.
New South Wales Mental Health Events 
Embracing Hopefulness during Covid-19 – Series 1
Join online | Tuesdays: 5th October, 19th October & 2nd November, 9.00 am – 12.00 pm
Site Connect, Supporting Mental Wellbeing: Mates in Construction
Join online | 13 October, 10.00 am – 11.00 am